ROTAIR Introduces Three New Gommair Portable Compressors
ROTAIR Introduces Three New Gommair Portable Compressors
The new 7bar, 11bar and 13bar compact-sized and autonomous water-cooled Gommair units deliver increased operational flexibility and a reliable alternative to piston pump compressors.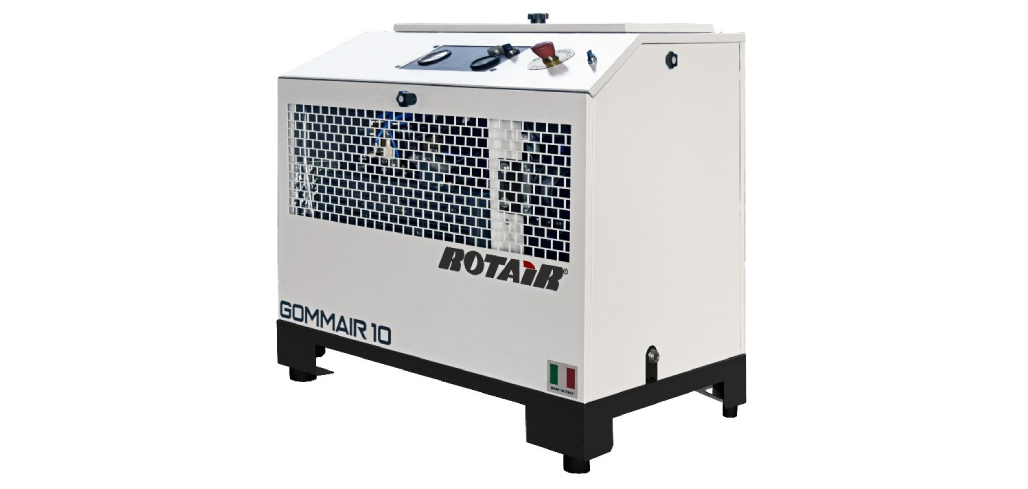 Caraglio, Italy June 12, 2022 : ROTAIR SPA, a leading company in the design, manufacture and distribution of high technology portable air compressors, multi-functional dumpers and hydraulic breakers for more than 60 years and a brand of ELGi Equipments Limited, introduced today the three new models of Gommair portable compressors offering 7bar, 11bar and 13bar of operating pressures.
The new, redesigned Gommair compressors feature new diesel engines compliant with EU Non-Road Mobile Machinery (NRMM) Stage V emission standards and a screw airend, in- house designed and manufactured by ELGi. The new more robust design of the Gommair compressors makes them a quiet and efficient alternative to air-cooled piston compressors for all applications where reliability, compact size, autonomous operation, manoeuvrability and ease of maintenance are important.
"We went back to the drawing board and redesigned the Gommair compressors to answer our customers' calls for industrial-quality solutions in smaller applications like tyre workshops, garages or cavity wall insulation", said Alex Persyn, director of product management at ROTAIR S.p.A. "The new Gommair portable compressors feature new, emission-standards compliant and quieter diesel engines and a new screw-type airend, bringing industrial quality to customers requiring dependable, flexible and efficient compressed air in their workshops or wherever their job takes them."
The key features of the Gommair compressors include :
Versatile use – thanks to the compact size, Gommair compressors are easy to move with a forklift and can be easily transported and used in service vans and trailers in remote projects.
Industrial quality components for everyday use: NRMM Stage V emission diesel engine from Yanmar, proprietary-designed screw airend from ELGi and water-cooled compressor contribute to longer life-time of the unit.
Lower operating noise for more convenient use in inner city and urban areas.
Easier maintenance with comfortable service access thanks to two removable panels. Only one fixed wall and optimised air-inlet also allows for more flexible placement in workshops, service vans and on locations.
Flexibility to change the operating pressures throughout the lifecycle of the compressor simply by changing the pulley, thanks to the belt-driven engine, and variable pressures and flow.
Three models with operating pressures of 7 bar with 1100 l/min free air delivery, 11 bar with 930l/min and 13 bar with 800 l/min at wide ambient environmental conditions from -10°C to 50°C.
For more information on ROTAIR S.p.A. solutions, please visit :https://www.rotairspa.com/.
About ROTAIR
ROTAIR S.p.A. a brand of ELGi Equipments Limited, designs, engineers and manufactures customer-centric portable air compressors, multi-functional minidumpers and hydraulic breakers. Since the company was founded in 1961, ROTAIR has become renowned for its heritage of pioneering solutions for the construction, public works and maintenance and agricultural sectors while ensuring conformity with international standards in terms of quality and processes. With a global presence spanning more than 60 countries, ROTAIR stands apart in the market by partnering with customers and end-users to design products and solutions ensuring reliable use, low cost of maintenance and future-proofing their value. For further information on the organisation and its products, please visit www.rotairspa.com
About ELGi
ELGi Compressors is a global air compressor manufacturer with operations in nearly all European countries with a broad line of innovative and technologically superior compressed air systems. ELGi has consistently worked towards ensuring that its customers achieve their productivity goals while keeping the cost of ownership low. ELGi offers a complete range of compressed air solutions from oil-lubricated and oil-free rotary screw compressors, oil-lubricated and oil-free reciprocating compressors and centrifugal compressors, to dryers, filters and downstream accessories. The company's portfolio of over 400 products has found wide applications across industries. For further information on the organisation and its products, please visit www.elgi.com/eu/
Media Contacts :