ROTAIR Approves HVO, Fossil-Free Diesel Fuel For Their Portable Compressors
By using HVO fuel, users of the Rotair MDVN and MDVS compressors with EU NRMM Stage V compliant engines can now further reduce emissions with the same performance in comparison to fossil fuels.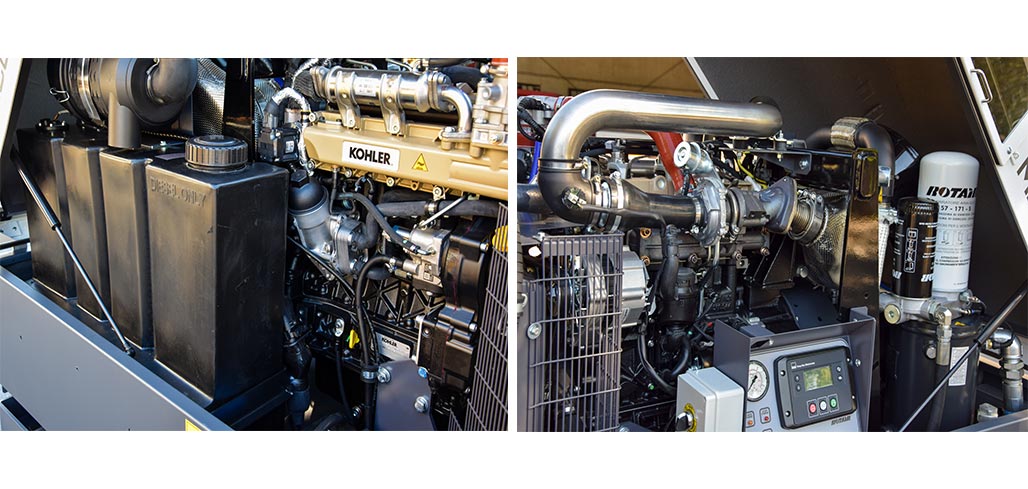 Caraglio, Italy Sept. 27, 2022 : ROTAIR SPA, a leading company in the design, manufacture and distribution of high technology portable air compressors, multi-functional dumpers and hydraulic breakers for more than 60 years and a brand of ELGi Equipments Limited, announced today that it approves the use of EN15940- compliant Hydrotreated Vegetable Oils, or HVOs, as a fossil-free and more sustainable alternative to power their portable compressors. The HVO fuel can be used with all the models in the ROTAIR MDVN Eco5 and MDVS Eco5 portfolio featuring Kohler engines compliant with the EU Non-Road Mobile Machinery (NRMM) Stage V emission standards.
The MDVN and MDVS portable compressors, designed for standard applications but also with sandblasting, fibre optic cable laying and other applications requiring cool, dry air in mind, address customers' needs for higher flow performance, reliability and lower lifecycle cost. By using biodegradable HVO instead of traditional diesel, customers can reduce their CO 2 emissions and particulate matter pollution from the engine by even 90%, without impact on performance nor any engine modifications or changes in service intervals. In addition to running on HVO, the compressors can also run with mixed-fuels including regular diesel.
"At ROTAIR, we pride ourselves on delivering customer flexibility and convenience while continuing to deliver the best product options that meet their needs for performance, reliability and sustainability," said Alex Persyn at ROTAIR S.p.A. "Meeting critical sustainability challenges, including the reduction in emissions and improvement in air quality, are common objectives as we seek to combat climate change. The validated use of HVO in our units gives our customers more options for improving the sustainability of their operations while maintaining compressor performance and efficiency – a win-win solution."
HVO is a renewable paraffinic fuel also known under the names "synthetic diesel" and "renewable diesel". It is produced with plant or animal oils derived from the residues of the meat and fish industries. Since it is obtained from organic material, HVO – unlike biodiesel – does not use agricultural resources nor does it contribute to deforestation.
The HVO-compatible MDVN and MDVS units come in standard version or with integrated after-cooler and condensate filtration. The units feature a pneumatic control system to save fuel consumption by automatically adjusting engine revs to the amount of air needed.
Offering a wide range of pressures, including Dual Pressure, the units also feature an intelligent start/stop system that provides a regulated build-up of engine revolutions and pressure, improving durability. ROTAIR's portable compressors are also known for their compact dimensions for improved manoeuvrability and an optimal dimension to power ratio. The units have European homologation for road circulation with brakes.
For more information on ROTAIR S.p.A. solutions, please visit : www.rotairspa.com
THE KEY FEATURES OF THE MDVN AND MDVS COMPRESSORS INCLUDE :
Wide range of pressures, with possibility of Dual Pressure.
Ergonomic, durable machines.
Lowest acoustic pressure levels as indicated in current legislation provisions.
Emissions according to the latest parameters.
Accessibility for maintenance.
"Intelligent System".
" No Key " control panel, one button to start the machine.
Anti-repetitiveness system on the engine start. Avoids stating motor anomalies.
Centralized control panel for easy monitoring.
Skid, axles of different types, with or without brakes, lights to be fit for road circulation under severe homologation parameters.
Low life-cycle cost.
Manufactured in compliance with applicable international standards (CE, ASME, DOSH)
About ROTAIR
ROTAIR S.p.A. a brand of ELGi Equipments Limited, designs, engineers and manufactures customer-centric portable air compressors, multi-functional minidumpers and hydraulic breakers. Since the company was founded in 1961, ROTAIR has become renowned for its heritage of pioneering solutions for the construction, public works and maintenance and agricultural sectors while ensuring conformity with international standards in terms of quality and processes. With a global presence spanning more than 60 countries, ROTAIR stands apart in the market by partnering with customers and end-users to design products and solutions ensuring reliable use, low cost of maintenance and future-proofing their value. For further information on the organisation and its products, please visit www.rotairspa.com
About ELGi
ELGi Compressors is a global air compressor manufacturer with operations in nearly all European countries with a broad line of innovative and technologically superior compressed air systems. ELGi has consistently worked towards ensuring that its customers achieve their productivity goals while keeping the cost of ownership low. ELGi offers a complete range of compressed air solutions from oil-lubricated and oil-free rotary screw compressors, oil- lubricated and oil-free reciprocating compressors and centrifugal compressors, to dryers, filters and downstream accessories. The company's portfolio of over 400 products has found wide applications across industries. For further information on the organisation and its products, please visit www.elgi.com/eu/
Media Contacts :