PLANS FOR EUROPEAN MARKETS
ROTAIR Announces Ambitious Growth Plans for Key European Portable Air Compressor Markets
New regional leadership, products and expansion of the distribution network central to growth strategy with dedicated solutions for the construction and agricultural sectors.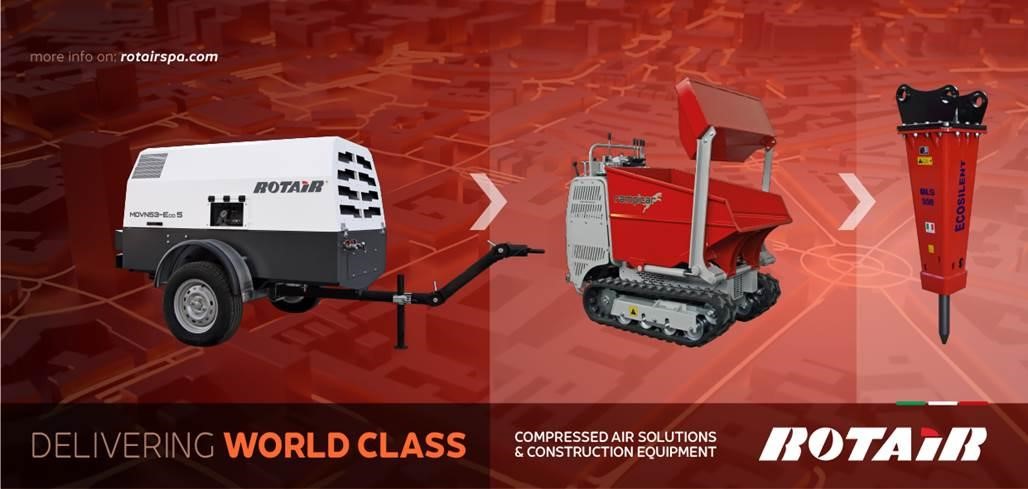 Caraglio, Italy April 12, 2022: ROTAIR SPA, a leading company in the design, manufacture and distribution of high technology portable air compressors, multi-functional dumpers and hydraulic breakers for more than 60 years and a brand of ELGi Equipments Limited, announced today its ambitious growth strategy in the Italian, French, Spanish and the UK markets.
Having grown significantly in markets further afield including Australia and the United States in the past years, the company has now set an ambitious growth plan for Europe including and expanding its presence in key markets. This includes dedicated sales teams and distribution partners as well as an invigorated product development strategy to include engine upgrades and further expansion of the EU Non-Road Mobile Machinery (NRMM) Stage V emission standards compliant portfolio of portable air compressors.
"For more than 60 years we have been building on our heritage of developing pioneering solutions for the construction, public works and maintenance and agricultural sectors," said Giuseppe Donadio, managing director of ROTAIR S.p.A. "Today we are strengthening our presence in Europe and tightening our relationships with particular attention to customers in civil engineering, construction, sandblasting, fibre optics and the agricultural sectors. Our customers can trust to have ours and our distributors' support on the ground when and where they need it, to operate with reliability, flexibility, functionality and efficacy."
ROTAIR recently appointed Arnaud Frappier, Area Sales Manager, to lead the growth of ROTAIR and increase its distribution partners in France. Arnaud is a qualified mechanical engineer with more than a decade of experience in the compressed air and industrial application sectors in France.
Since the company started operations in 1961 in Piemonte, Italy, ROTAIR SPA has partnered with customers to develop adaptable and customisable portable compressed air solutions. ROTAIR's main product categories include portable compressed air solutions, hydraulic breakers and Rampicar, a range of tracked mini-dumpers.
The range of ROTAIR portable air compressors include:
The recently renewed VRK line, an innovative and small portable compressor specifically designed for the efficient laying of fibre optic cables.
The MDVN-MDVS line of small to large portable compressors and historically the core products of ROTAIR.
The VRH line of compact high performance hydraulic motor driven compressors for mounting to vehicles with an oil circuit that require compressed air, such as excavators and tractors.
About ROTAIR
ROTAIR S.p.A. a brand of ELGi Equipments Limited, designs, engineers and manufactures customer-centric portable air compressors, multi-functional minidumpers and hydraulic breakers. Since the company was founded in 1961, ROTAIR has become renowned for its heritage of pioneering solutions for the construction, public works and maintenance and agricultural sectors while ensuring conformity with international standards in terms of quality and processes. With a global presence spanning more than 60 countries, ROTAIR stands apart in the market by partnering with customers and end-users to design products and solutions ensuring reliable use, low cost of maintenance and future-proofing their value. For further information on the organisation and its products, please visit www.rotairspa.com
About ELGi
ELGi Compressors is a global air compressor manufacturer with operations in nearly all European countries with a broad line of innovative and technologically superior compressed air systems. ELGi has consistently worked towards ensuring that its customers achieve their productivity goals while keeping the cost of ownership low. ELGi offers a complete range of compressed air solutions from oil-lubricated and oil-free rotary screw compressors, oil-lubricated and oil-free reciprocating compressors and centrifugal compressors, to dryers, filters and downstream accessories. The company's portfolio of over 400 products has found wide applications across industries. For further information on the organisation and its products, please visit www.elgiaircompressors.eu
Media Contacts: