Rotair – Hydraulic breakers
Rotair providing an innovative range of hydraulic breakers which concretely represents the greatest expression in the field of demolition equipment associated with construction machinery. Exclusively offered in the vibrating version which, due to the concept of supporting structure adopted, guarantees sound pressure values ​​at absolutely minimum levels, for the real benefit of operating comfort and the environment. Rotair's hydraulic breaker is the best choice for demolition and renovation work. Simple installation on carrier machines, thanks to internal hydraulic devices to stabilize hydraulic pressure and flow characteristics. High back pressure tolerated on the exhaust system for ease of application and maximum impact fuel efficiency.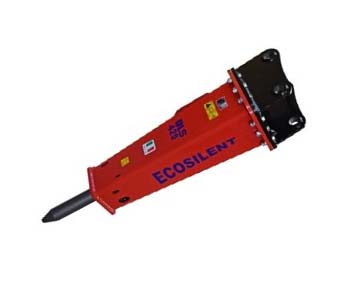 LIGHT WEIGHT series
An innovative breaker range, representing cutting edge technology in ….
Read More
Choosing Rotair means choosing the experience of a modern hydraulic breaker producer. Rotair offers many models of hydraulic breakers for mini excavators, divided into 2 series, large and light, in turn divided into several versions, according to the specific needs of the customer.
Equipped with a "CONTROL POWER SYSTEM" device which, in addition to the automatic recovery of energy in the striking phase, optimizes the performance of the hammer according to the specific needs of the user and the operator.
Reduced maintenance time required and ease of intervention and control of the internal parts of the hammer thanks to the "EASY MAINTENANCE" concept. Closing saddle of one-piece body and flapping body incorporating the point of attachment of the bucket to the intended operating machine.
More compactness of the hammer on the longitudinal section for the benefit of better operating convenience, particularly in narrow sections. Slimmer, more ergonomic and more robust structure.
A better performance of the pile driver which suspends elastically allows the recovery, during demolition work, of the kinetic energy generated by the same shutter, in elastic potential energy, subsequently restored to the tool.
The Rotair mini excavator breaker is highly adaptable, durable, efficient and has the best noise and vibration levels.
Manufacturing in accordance with applicable international standards
Discretion is their strength; Rotair hydraulic breakers are comfortable, quiet and attractively designed.
Rotair hydraulic breakers are designed for intensive use and long service life. They require little maintenance to ensure maximum uptime.
Light and heavy models are innovative and the best choice for demolition.